Life simple little pleasures. As I've mentioned already, I live on the top floor of our Apt Bldg. We have a balcony that extends over the balcony of the neighbor below. A few months ago, I notice the vine of a plant the neighbor creeping its way up the Direct TVcable to my balcony. No problem. I noticed that the vine is that of a parchita (Passion Fruit). The vine reached my rail and proceeded about it's business. I was tempted to turn it around so that it will go back down, instead. I just left it and sometimes I would kinda train it to go in either directions along the rail instead of falling wild like this
so the vine is rapidly growing. I even got so bold as to one day during the dry season, I pointed the water hose down onto the neighbor balcony and wet the root of the vine. I was actually enjoying the progress of the vine. Well to my delight one day what should I see but this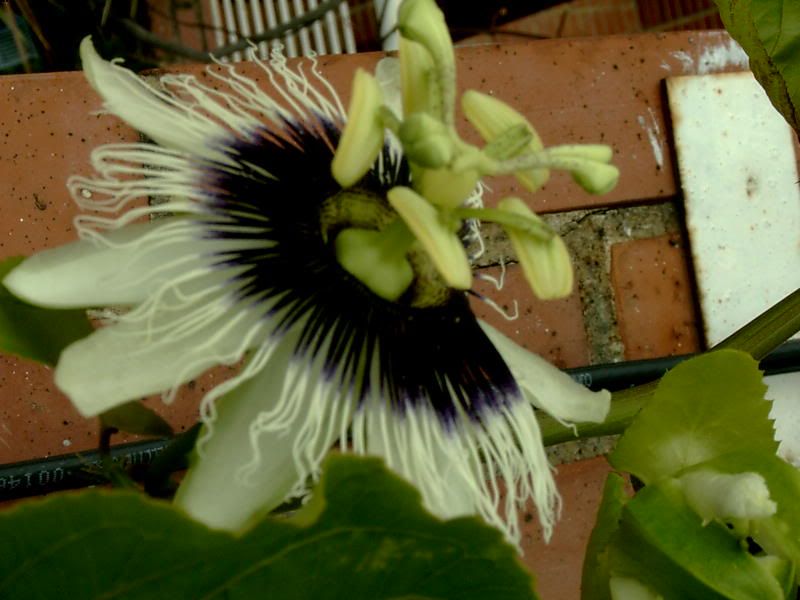 beautiful flower blossoming as pretty as ever. Now growing up in the island, we did have a passion fruit vine in we yard along wid a spanich wine and many ah days made drink from the fruit. But we never really saw the beginning process of the fruit. All we know is one day you go out and there staring you in the face is a big ripe passion fruit wrap up round de spanish. You pick and eat---quite tart---but hey we pickeney doan kno nuh betta, dash some salt and eat, or yuh pick and mek drink.
So, ah proud ah mi thief vine. Next couple ah days, hey wha ah see staring me in de face. Flower close up and look wha come out
check de upper right hand corna ah de picture. Nice little passion fruit ah produce.
Now I look down at de original vine growing cross de neighbor fence and I doan see flower, which mean, nuh flower, nuh fruit. Meanwhile I counting and I got 9 flowers and so far one big fruit and some small ones coming along. I guarding and protecting de first lil one like a hawk.
Well being, the good neighbor as I am, when de first one get ripe, ah gonna pick it and carh it downstairs tuh de neighbor, OK maybe de second one, but me ah carh one or two fi she. Since, after all... is she parchita vine dat invade mi property. and vine growing pretty enuff.....
Ah hope jugo de parchita (passion drink) tast just as good as vine look.